Last week, the weather was totally gross and rainy, and since there was already snow on the ground, everything just turned slushy, brown, and sad. I had the afternoon off from class and work and my friend Hannah, photographer extrordinaire, turns to me amidst the homework we should have been doing and asks if I want to bake.
Um, I'm sorry, but is this even a question!?!? Of course I want to bake. At this time, I learn that my house has communal baking supplies (flour, butter, sugar, etc), and I get really excited and almost run to the kitchen. I throw my cookbook on the table and decide that I am going to make scones. They are actually a little thank-you for my boyfriend's mother, who was gracious enough to let my plague-ridden self sleep at her house two weeks ago when I had the flu and couldn't sleep in my ridiculously noisy frat house. I thank people with sweet treats! It's the gift that keeps on giving (…to your waistline…and your cholesterol…and your body fat to muscle ratio…)! But honestly, baked goods always just make people smile, and seeing as how I love making people smile (with as much butter and sugar and heavy cream as humanly possible, of course), it's a perfect fit.
The base for this recipe is from the Fannie Farmer Baking Book, a gift I received from my parents for high school graduation, and one of my favorite cookbooks to this day.  The base recipe is just for a plain scone.  I wanted to do an orange chocolate scone (one of my all time favorite flavor combinations), but I didn't have an orange.  I did, however, have a bottle of peach schnapps in my cabinet, so I improvised a little bit from there.  I mean, what college student wouldn't love to laden their breakfast pastry with alcohol?  Okay, so the scones won't get you drunk, but the peach schnapps does add a very nice zing when you incorporate it into the finishing glaze.
Ingredients:
2 cups all-purpose flour
2 tbl sugar
2 tsp baking powder
1 tsp salt
1/4 cup (half of 1 stick) butter
1/2 cup milk
1 large egg, slightly beaten
1 individual serving size can of peaches (I eat the peaches that come soaked in pear juice, but if you like that ones that come in the heavy syrup, that works too)
1/2 cup chocolate chips
confectioners sugar
3 tbl peach schnapps
 Directions:
Preheat oven to 450 degrees.
Combine dry ingredients with a fork to aerate.
Cut in butter with pastry blender or two knives until it looks like fresh bread crumbs.
Stir in milk and egg until ingredients are just moist.
This is a step that I added in to incorporate the peaches.  I drained an individual can of peaches and mashed them up with my (clean) hands until it formed this really fine pulp.  You could do this in a food processor or a mini chop if you have one.  fold in the peach pulp and the chocolate chips.
Gather into a ball and knead lightly on a floured surface about 12 times (DO NOT OVERKNEAD) Pat or roll into a circle about 1/2 inch thick.
Cut the circle of dough up like you would cut a pizza.  The recipe can yield anywhere between 8-12 scones, depending on how big you like your scones to be
 Bake for 10-12 minutes until nice and golden brown
LET COOL
 Stir together the schnapps and enough confectioners sugar (a few tablespoons usually does the trick nicely) until it forms a thick, shiny syrupy goo.  With a pastry brush, coat the top of each scone with the syrup and let dry.  You scones will now be shiny and taste a little morel like peaches.
 Enjoy with tea, or coffee, or a good book on a rainy day.
I was really surprised at how fast the process for making these was, so if you do have a spare afternoon and a bit of a sweet tooth, these are an excellent option for you.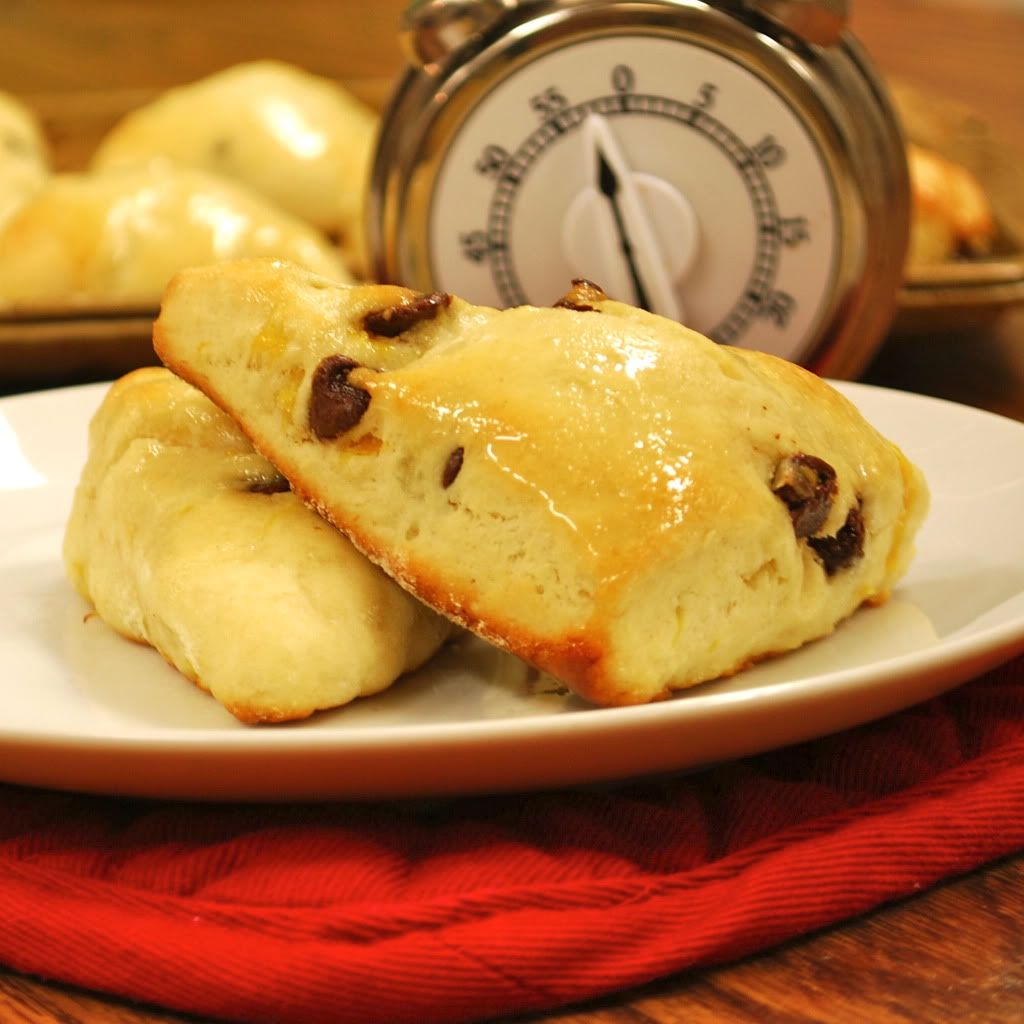 Category: Uncategorized